By RayPWE @ April 4, 2012 at 4:00pm

Celebrate Easter on Forsaken World! We have several different events going on this week.
Easter Task Hunt

Complete a task each day to earn prizes! A new task will be revealed each day during 4/6-4/10:
Easter Caption Contest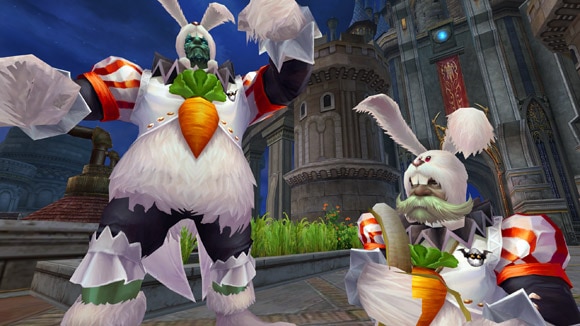 Think you can come up with a witty caption for our screenshot? Enter in our caption contest:
Deadline: Thursday, 4/12. Winner will receive a choice of the Bunny fashion (male) or Rabbit fashion (female) and 25 Easter Bunny Packs. Ten runner-ups will receive 10 Easter Bunny Packs.
Easter Egg Hunt

15 eggs with codes attached are hidden within the FW blog posts. Can you find them? If you find them first, you will get 10 Easter Bunny Packs. (UPDATE: All 15 eggs are now found!)
GM Hunting Season

It's GM hunting season! Find the GM in a rabbit costume and you can win some prizes! Just make sure you read the in-game announcements for clues as to where the GM is and trade the GM first to receive a prize! Prizes include a Rabbit pet and a Super Rabbit Savior title. See event schedule below for details.
Thursday (4/5): Lionheart, Illyfue, Nyos
Friday (4/6): Eyrda, Storm Legion
*Event will be held once during 10AM-1PM PDT, and once between 4PM-7PM PDT.
WINNERS UPDATE:
Lionheart: Solearain, Osante
Illyfue: Arribelle, SinFinger
Nyos: Farihon, FreakyPries
Storm Legion: LadySilent & SFX_Royal
Eyrda: _XxEnvyxX_ & xchocobox

—–
Easter Gift Pack


Possible prizes:
Possible prizes: Rabbit Egg, Star of Hope
World Flute, Boneshredding Wind II
Death's Dirge II, Fighting Will II
Flame of Oblivion II, Fortune of Light II
Landslide II, Wild Tide II.